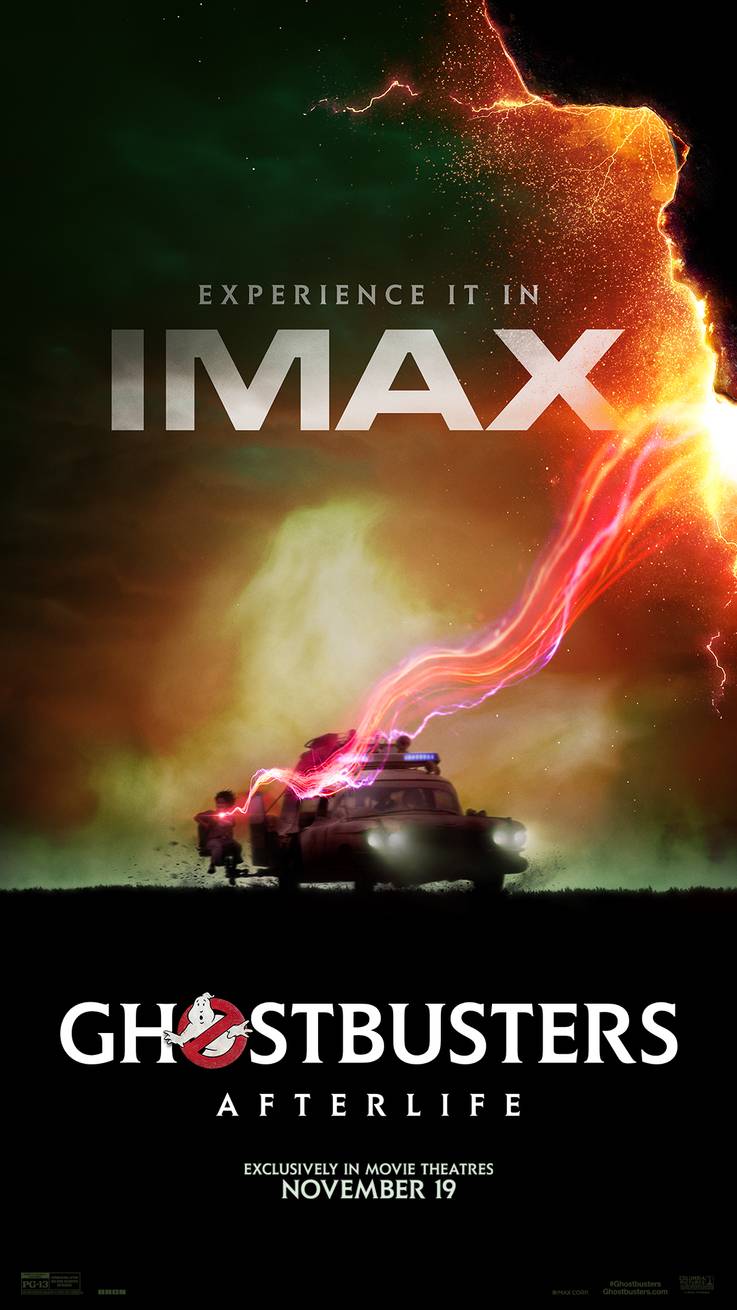 Absolutely brilliant! It took over thirty years and an extremely disappointing reboot, but we, the viewers have finally gotten our prodigal scion from the Ghostbusters franchise with the third chapter, Ghostbusters: Afterlife!
Helmed by Jason Reitman (Juno, Young Adult), noted son of original director Ivan, we pick up as time left off. Egon Spengler (the late, great Harold Ramis) has died, and his estranged daughter (Carrie Coon, "Fargo"), down on her luck and evicted from her home, takes her children, Trevor (Finn Wolfhard, "Stranger Things") and Phoebe (Mckenna Grace, Annabelle Comes Home) to her reluctant inheritance — Egon's old digs (and mountains of debt) in a backward town in Oklahoma… but there is more. Old haunts begin to resurrect; alliances once worn thin are retied, and the adventure of a lifetime, cliché though it is, will come to life… after death!
Let's get this out of the way — this is a fantastic movie! Too often a long-awaited sequel is smothered by the familiarity of nostalgia, be it as far apart as Star Wars: Episode VII – The Force Awakens or even as short a wait as it took for The Mummy Returns, but in the case of Ghostbusters, we are given beats and references that are familiar, and yet, the paths taken are ever so different that it feels fresh, not stale. Expect the unexpected is the order of the day with this movie, and while that may stir fears of those who saw the reboot and left with a bad taste in their mouth (as I did), fear not — Reitman and his co-writer, Gil Kenan (Monster House) treats this film and franchise with the same reverence and respect that was given to films like Christopher Robin! It's bizarrely one of the most heartwarming films of the year!
Further, whereas the reboot was drowning in poor acting (comedic and otherwise) and lousy visual effects, we are treated to excellent examples of both cases. I was surprised by the latter, as Reitman has never done a franchise blockbuster, or indeed, a blockbuster at all, but he is under the guiding hands of his father, and one could argue that his directing the (abysmal) visual effects-heavy Men, Women & Children only played in his favor! The ghosts in the film are genuinely scary and never once does this exude Robert Zemeckis-grade fakery. The acting is equally terrific, with excellent turns from Wolfhard and Grace, both breaking the norm of boring to cloying child actors and most endearing without being suffocating. Ms. Coon, previously known to many as Proxima Midnight (daughter to Thanos in Avengers: Infinity War), portrays the despair of single motherhood and parental estrangement with great skill, and when the time comes, brings the kindness and the scary sauce in equal measure. Also appearing is Paul Rudd (Ant-Man and the Wasp) as nerdy summer school teacher Mr. Grooberson, who brings his usual affability and kindly charm to the world of ghosts, but the real scene-stealing MVP is Logan Kim, in his debut movie, as a classmate of Phoebe's known as Podcast. Unfazed by the events unfolding with some of the best jokes in the film, he's a welcome addition to the fold!
Again, you have nothing to fear with this film — Ghostbusters: Afterlife is a sweet, loving third chapter in a long-cherished franchise that is every bit as great as the original films — dipping its toes into nostalgia without soaking its entire self in it, while still not betraying the (…heh-heh!) ghosts of its past. Jason Reitman has opened the door to a new chapter in his career as well, and I look forward to what becomes of that, in addition to this film!
"The franchise rights alone will make us rich beyond our wildest dreams!"

Peter Venkman (Bill Murray), "Ghostbusters" [1984]